Hi Bloggers
Spring is here at last and with it my garden turns into a wee piece of paradise.
The weather is still changeable with some days being summer-hot and some days being winter-cold.
I have been busy sewing but haven't got to share it so here are my last two months projects.
Firstly, this skirt which is made from cotton sateen (stretch) - beautiful to sew but you have to be careful not to stretch it too much when sewing it. I finished it with a black tape on the hem. Here's the pattern Simplicity 2766 and I made it shorter for summer. Love the way the 6-gore skirt falls.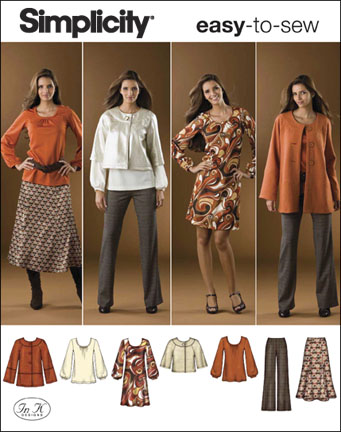 The real excitement of course is the frocks that come with warmer weather.
DRESS NUMBER ONE
The grey dress which I made back in August out of very stretchy lacey textured fabric had the potential to go terribly wrong or beautifully right. I admit to having the material and the pattern NEWLOOK 6802 for many months before plucking up the courage to cut into this delicate piece of stash. It's always the fit that worries me and with different amounts of stretchiness comes the potential for disaster. Luckily for me I did lots of measuring and it fits like a glove.
I put in the sleeves and then took them out again. It looked a bit too baby doll for me (for a women of my vintage!) I like the tops of my arms covered now adays (I've seen some photos that made me think this!) so I will wear a touch of a shrug or short sleeved cardi with it.
I looked at other people's attempts at this pattern on sewing.patternreview.com and many were were fabulous but some were very disappointing and showed the overtop not covering the undertop.
I can never get cheap stretch toile material that has exactly the same stretch and I think some of the dresses that have been trialled on an alternative piece of fabric aren't right because the fabric is totally wrong. I don't think you can get a good indication of fit with muslin/calico when you need to be using stretch - and some fabrics are like elastic and other just have a nice give in them like my favourite cotton sateen. If you have some ideas on this one, please share:).
How was I going to make it work? My trick was to use plain grey stretchknit (like thickish t-shirt) fabric underneath and then pull up the feature fabric a lot (2 inches!!!) at the front shoulder seams on both sides. I am very pleased with the result and the dress part falls elegantly. I do have to wear a slip underneath since it is quite see through.
To make things easier I used wide grey bias binding to face the back neck and arm holes.
Notice the swirling of the stripes in the top front and then the stripes fall vertically from under the bustline. (Selfies are quite hard to take - if you would like to see a better photo just say and I will arrange it. I did try to get the dress on my mannequuin tonight but I started wrestling with it and we were both nearly on the floor so I gave up and slipped gracefully into it to take this shot.
DRESS NUMBER TWO - THE CHRISTMAS DRESS
Last year's Christmas dress didn't get finished until February but this year I am onto it and have nearly completed it. I bought the red white and black cotton sateen as soon as this year's summer fabrics arrived at Fabric Vision.
After much pawing over the patterns on the internet I kept going back to Vogue8685. I saw a blog which was mad on Mad Men vintage fashion and it had the same bust fitting which was three pleats under each boob to give the shaping. Then when I found out the cost of vogue patterns there was more procrastination I've never sewn vogue before. Last summer I even drafted my own pattern and borrowed Burdastyle from the library, but in the end I decided this one was very nice and I had to have it.
The stretch on this fabric exactly matched the recommended stretch as given on the back of the envelope for moderate stretch fabrics.
Seam allowance is included in this pattern but not being sure which size would fit I added half an inch on the side seams. I chose to cut out the short version of the skirt but I added 2.5 inches to make it a bit longer.
Pleats - Three darling pleats - you can see them below as pinned in place. (Note they are not all the same size so it is worth spending time to sew these in place accurately for a great fit.)
I decided to put in some black piping so went and bought some satin black but then I realised the piping is not stretch but the fabric is, so I just put it in the front so the back still has give.
I decided to construct my dress in a different order - I did all the front pieces and all the back pices and then I was able to fit it on me for the right fit at the side seams.
The sleeve pieces give a lovely shape and I piped the sleeve as well.
The facing of the neck and sleeves will have to wait for another day! I am very pleased and it fits like a glove! Love those boob pleats. I'll take a photo of me in it when it's all finished. It's a little vintage! And a special frock for Frocktober!
THE REAL VINTAGE STYLE: Here's my fabulous mother in 1950 something with her brother at his wedding. She made the dress herself of course.
Thanks for reading. I love to receive comments so feel free to comment and also to ask questions. I am happy to let you know more about these patterns. It' one big learning curve this sewing caper!
Update:
Since many readers loved my fabulous mother's dress in my last post, I thought I would post this gem from 1960 of Mum, my Dad's cousin Christine and another young lady unknown, in the summer of 1960 sitting on Dad's jaguar! A day at the beach. You can imagine the fun they had in this with the top down. Classic!
Thanks for all your lovely comments. Really appreciate the support from the Monthly Stitchers!